ALL INCLUSIVE
SURF CAMP IN LAGOS
You can't Miss our Beginners and Intermediates Green Waves Surf Camp in Lagos. Join our all inclusive surf weeks running from October 20th until November 3rd Below you'll find the information you need about our surf Packages and what life at our surf Camp is like! Can't find what you're looking for? Contact us today.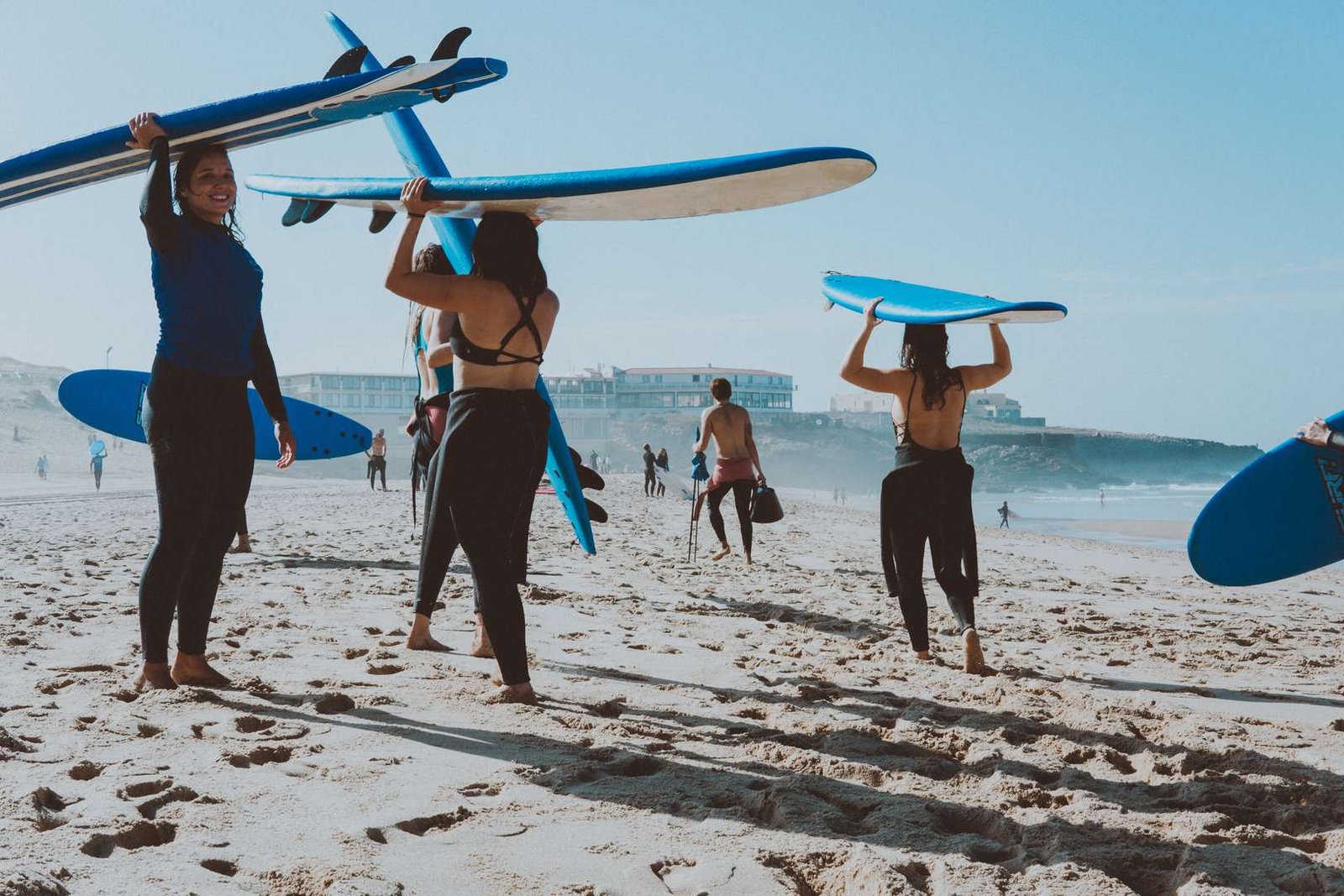 Surfing
Head off with our awesome fully accredited instructors to one of the Algarve's most incredible surf locations for a full day of surfing, sunshine and sandy feet. October means incredible weather plus some of the best waves of the year, not to mention line ups and waves are much less crowded, it's simply the best time of the year to visit the Algarve.
Lessons
Your surf lessons for the day include:
● Pick up
● Drop off
● Board hire
● wetsuit hire
● snack Pack
● 2 x Surf Lessons
● Sports insurance
Values
At Lagos surf safari we teach our students from beginners upwards, everything they need to know in order to improve their surf skills in a fun and exciting environment. We understand there is a point when surfing becomes your whole life and we want to be a part of that journey with you. You will no longer be able to bus around a country visiting city after city or simply be able to just sit on a beach. you want need to be where there is a wave. In the water surfing. Some call it stoke! But there is a moment for every future surfer when that happens and we are here to encourage it and nurture it from its grass roots of just an idea about surfing to the moment you are in your bed feeling the waves gently rocking you in your dreams.
Green
To Green wave students, our green wave lessons get you into the line up. Hone your skills on glassy green waves, learn to navigate difficult sections and figure out how to open up the wave in order to ride it for longer. For green wave riders we will help you become competent in catching 8 out of ten waves, generating speed and learning to turn. Not to mention surf etiquette and wave knowledge. If you have your own board and wish to bring it for green wave riders you are welcome to. We have a selection of short and mid length boards but if you are a longboarder we suggest renting your own or bringing yours with you.
Beaches
Porto de mos is one of our favourites this time of year. Located on the south coast a minute's ride from the surf house is A super easy paddle out across a flat bottom reef on one side of the beach and a sandy bottom on the other side. Beautiful right handers and different sections for different abilities spread across what is easily one of the best surf locations to improve your surfing tenfold. Mos also has a super easy going surf crowd with a mix of chilled locals and expats from all over the world.
Home
Happy, tired and sun tanned you will head back to the van to hand in your gear and get
changed. 9 times out of ten the only person still awake in the van is the instructor driving you
home. So you can enjoy a much deserved nap because after that we have more prepared for you.
Chill
Head back to the Beach house around 3 or 4pm then you have a few free hours before our home cooked evening family dinner at 7pm. If you find yourself killing time your options are endless, grab a beer and hang out with your new surfer mates on our  un terrace or at the bar. Head to our nearest beach, Praia Dona Ana or Praia Do Camilo, just minutes from our surf accomodation for the last of the evening sun. Wonder into Our beautiful Old Town and explore the backstreets of artwork and artisan shops that Lagos has become iconic for or just nap in your Super comfy Bunk bed after an epic days surf.
Dinner
7 Pm Dinner is served! Our nightly events are perfect for mingling with your new mates. Natter about the days wipe-outs and surf success stories whilst chowing down on our hearty dinners until you are full to burst.
Menu includes:
Mexican night
Our famous BBQ's
Buddha Bowls
Burger Night and More.
Don't Forget about the free sangria between 7pm and 8.30pm
Happy hour at the Bar is 6pm - 8pm Try our local beer for 2 bucks!
Fun
Not ready for bed yet? Then why not head into town for a Game of Beer Pong or a Pub Crawl, the nightlife in Lagos can get pretty wild! or just retreat to bed for another epic day of Surfing Tomorrow.
Located 250 metres from one of the most stunning beaches in the
whole world Dona Ana you will find the surf house. 500 metres to Praia do Camilo and less than a ten minute walk to Ponta da Piedade.
At check in you will be given a run down of the events happening during your stay. The surf house consists of seven bedrooms consisting of 1 eight bed dormitory, 2 four bed female dormitories with ensuite bathrooms, 1 four bed mixed dormitory, 2 twin bunk rooms with ensuite bathrooms and 1 twin room. The dormitories have custom built bunk beds with your own black out curtain for added privacy and full size single mattresses. Breakfast and dinner is served on the gorgeous sun terrace where you will also find the bar, the hammocks, the sofas and the sun set.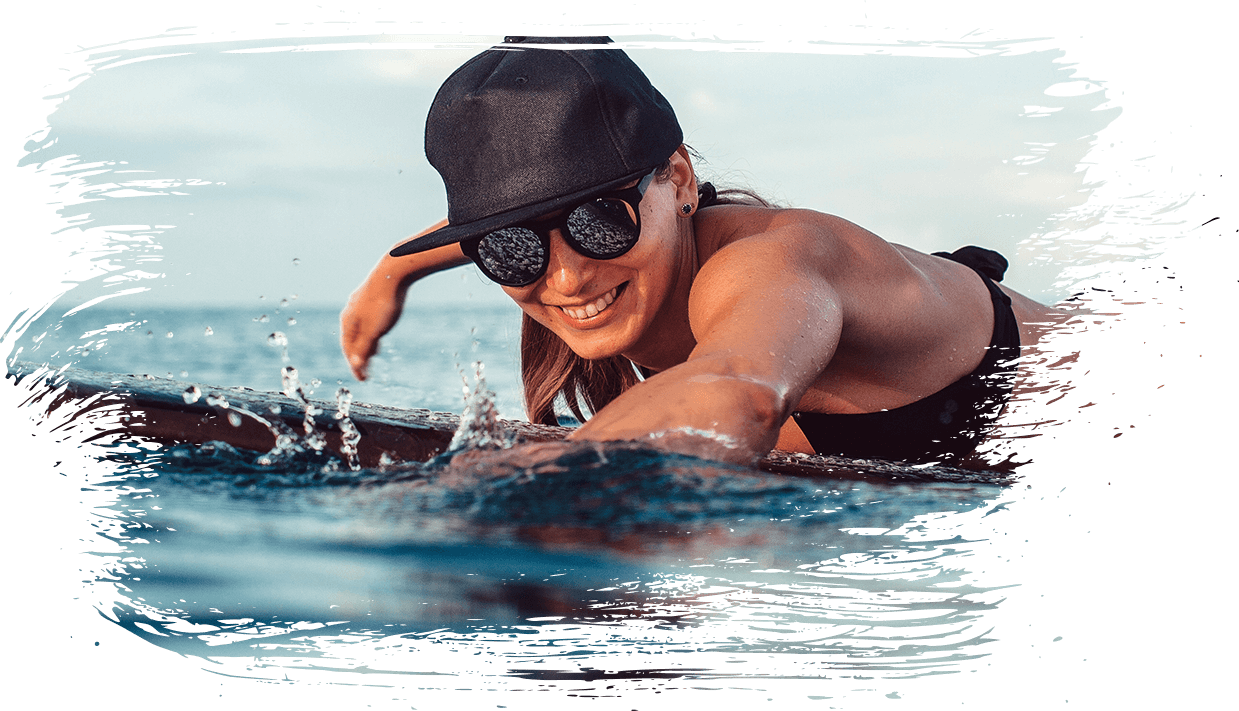 "Couldn't choose better! I've always wanted to try surfing and I'm so so glad I've chosen Lagos Surf Safari because Darcy and Igor made me a decent beginner surfer within first two days. I've been able to catch some waves with their amazing guidance. Everyone is so nice and we've been cheering each other up, pushing each other to reach our goals and be better. It's been like one big surfing family, honestly. I'm truly having the best time with them. "
"My husband and I absolutely loved our surf safari experience! Claudia and Darcy were fun, welcoming, and knowledgeable, and we caught wave after wave. The team made it super easy from booking to meeting up and heading over to a beautiful beach with great (but manageable) waves! We especially loved that we got two sessions (morning and afternoon) whereas it looked like other surf schools were only in the water for one longer session. Would highly recommend, thanks for the wonderful day!! 
"Great school! I loved my surfing lesson, great instructors, very warm and patient, with excellent teaching skills. They take care of you as if you belong to their own "surf-family". Teachers will adjust your positions and movements. They will inspire and help you in everything! I recommend this without hesitation. We will definitely come again. Thanks a lot, everyone!"
"I really really like this surfschool, I keep coming back to improve my surfskills! The instructors are super nice and helpful, making sure it's about learning how to surf in a porper way but also to have a lot of fun. See you in September guys."